Don and Mary Wolfram
Serving in Ecuador, South America
Called to Ecuador after a missionary friend's death in a plane crash there, Don and Mary Wolfram have been serving in Ecuador since 2005. They resisted at first, but now they are fulfilling what the Lord has placed on their hearts as they minister to the native people groups of the Amazon Basin.
It is their goal to see the Christians be the "go-to" people in their villages, which makes the Wolframs focus a lot of their efforts and resources around the students of the Bible School they lead. They also provide basic sustenance training.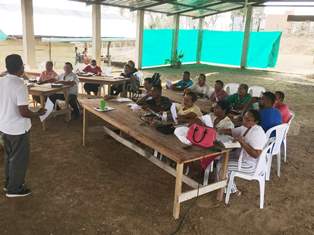 COLOMBIA BIBLE SCHOOL
What we built like crazy in Colombia is now at work: In a rural setting, identified through prayer, the 1st session of the new CEMIC Bible seminary in Colombia was launched. Rev C, the coordinator of more than 75 Bible seminaries worldwide, gave the inaugural classes. Colombian Ps. Jose Herrera, a graduate from CEMIM in Ecuador, also taught as did Ps. Sixto from Christians in Action out of Cartagena. We had 23 students & suspect that the next session will have 40. Glory to God; CEMIC training is under way.
PREPPING for THE JUNGLE CONFERENCE
New Missionary break-in! Veteran Alaskan outdoorsman Jon Gaige hardly needs a break-in to jungle life. Asked to teach some "proper" butchering techniques, Jon quickly adapted to the jungle floor and carved up the 600 pound bull bought as the conference's main food draw. The team deboned it right away and made sure all the bones were cut to personal-size pieces for the all-important Ecuadorian soup-course. Then the meat chunks were ready for the cooks to cut up as needed. This was a new & novel approach. Monica and the boys joined right in to village life and building friendships and helping with the process. Welcome & congrats Gaiges!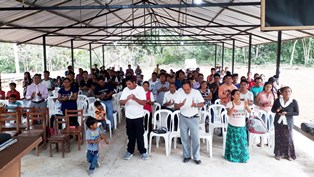 THE JUNGLE CONFERENCE
9th annual Ankuash Conference: This 3 day conference in Ankuash (Ecuador Aamazon) was led this year for the first time by a team of national jungle pastors. The fattened bull or "toro", served its purpose of drawing big crowds to hear the Word. Jesus showed us that you also have to take care of a man's stomach and show him love as part of capturing his heart. The stage was pushed back & roofed to make more room inside & the church floor was cemented just in time for the gathering. Thanks CCWC! Five (5) pastors gave the Word morning till midnight over a 3-day period. Lives were given to Christ and many re-dedications were also made. PTL!
MOTORCYCLIST PASTOR to TEACH UP COMING SEMINARY SESSION in ECUADOR
We are super excited to have Ps. Samuel Santiago from the Christian Motorcyclist Association (the real CMA!) in Arkansas and his wife Marsha at the CEMIM Seniary this month. Samuel is a real treat for the students. Pastor Samuel is not only fluent in Spanish, but has a passionate heart for God, His Word and His servants and he is also full of interesting "road warrior stories".