Mark and Cinthia Blosser
Serving in Shell, Ecuador-South America
Mark and Cinthia Blosser are in the mission field for life. God worked separately in each one of their lives as children, calling them to his service in the mission field, and then brought them together on the mission field in Ecuador.
The Blossers head up Manantial Ministries, where the aim and focus is to teach, train and support local pastors and Christian leaders, hold teaching seminars and counseling; and to work with the Ecuadorian children and youth to raise them up to personally know their Lord and Savior, and to be the future generation of Ecuadorian Christian leaders and missionaries.
Mark and Cinthia also work with an orphanage called Casa de Fe, or House of Faith; a home for abandoned, abused and special needs children, supporting in many ways needed: specifically as the Chaplain of the orphanage, looking after the spiritual growth and welfare of the children and employees there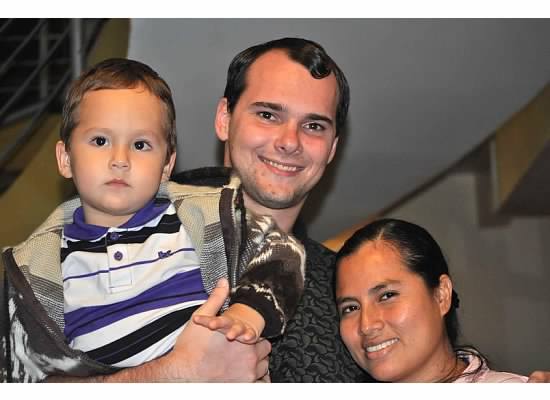 Marks words…
 Manantial is the Spanish word for Fountain.
 Our goal and ministry is to change the bitterness and death of bad doctrine, unbalanced living habits, chains of neglect and abuse in the lives of the children, youth and leaders of the christian church into a fountain of living water where the thirsty may drink and find life.
 There is a lot of need here for discipleship, to teach the pure word of God to many that have heard of the gospel, but are confused and do not know how to walk in a relationship with the Lord. Quite often here there is such a push to evangelize and not enough discipleship afterwards. We desire to help in whatever way we can, training Christian leaders, teaching seminars, helping national pastors in their evangelistic activities, ministering in word and song, and providing teaching, support counseling and rest for the pastors that have dedicated their lives to the kingdom. Our mission is to support them in whatever way possible, always in the background; equipping and assisting the Ecuadorian church to reach their own with the good news of our Lord and Savior Jesus Christ.
 Also, our aim is to work with children and young people that have had a very hard life so far, and to teach them that God is always with us, He never forsakes us; teach them about having a personal relationship with Him, and that His love can show us a way to live away from the bitterness of the past, live a life of victory that can truly make a difference; and raise them up to reach their generation with the truth of the Lord.
OUR VISION:
To support national pastors,
Teach the local church,
Raise Up the future generation of Christian leaders.
OUR MISSION:
Working with local pastors and christian leaders, training and supporting them in their ministries so that the word of God can go forth in love and truth.
Teaching the body of Christ how to have a personal relationship with their Lord, how to walk daily in His word; touching their lives through preaching, worship, teaching, counseling and seminars.
Ministering to the many young people living on the streets, spending their time looking for a purpose and/or way for them to live their lives.
Reaching out to the children and showing them Gods love, His care and friendship for them; teaching them that no matter what they face in life, He is always faithful.
 "And he went forth unto the springs of the waters and cast salt in them and said: Thus hath the Lord said, I have healed these waters, there shall be no more death or barrenness in them."

2 Kings 2:21
Read, watch and learn more here:
Please prayerful support this ministry here: